The Cellar
The Cenci Winery is located in an ancient rural settlement dating back to 1687 of the Olivetan Monks, expert selectors of lands suited to the cultivation of vines and olive trees in San Biagio della Valle in the Eburneo countryside, 15 km south of Perugia. For four generations the Cenci family has been producing wine in these lands.
The company covers approximately 40 hectares, 6 of which are vineyards. The composition of the soil is clayey-sandy, rich in limestone due to the notable presence of travertine slabs, a characteristic which gives the wines considerable sapidity.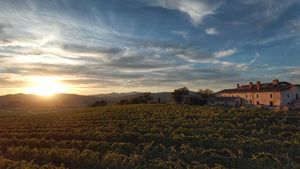 The vineyards
Throughout the company we apply the principles of organic farming and we are certified. The small lake in the center of the vineyard creates a special microclimate and a nature reserve for animals and insects. The grapes, exclusively from our vineyards, are harvested by hand in crates and vinified using traditional methods.
All stages of processing are coordinated by Giovanni Cenci, who in his spare time welds agricultural tools to make statues that are the subject of the Piantata Riserva and Pas dosé labels.
Cenci winery
Vocabolo ANticello 50

San Biagio della Valle
Mon / Sat - 8.00 - 19.00
Sunday - Closed